The first female twins who were safely delivered at the UNFPA renovated facility on 9th January 2021. Photo: Sr Philomena/Matkomnai Health Centre
---
UNFPA Papua New Guinea supported the renovation of labor and post-natal wards at the Matkomnai Health sub-center. The centre is located at Kilometer 50 along Kiunga – Tabubil Highway and is run by Catholic Church Health Services since 1950's serving an estimated population of 10,000 people.
The Labour wardroom at the center was previously used as an outpatient building and was renovated in 2018 through funding from Fly River Provincial Government and converted to a post-natal ward. However, the building was too confined and its roofing too low to be a safe structure for mothers in labour and posed a serious safety risk to newborn babies from suffocation and lack of ventilation.
"UNFPA's support for the renovation of the labour and Postnatal wards has now made it a safe delivery environment for mothers and babies," the Manager of Matkomnai Health Centre, Sr Philomena said.
The first female twins were safely delivered at the renovated facility without labour complications on Saturday afternoon, 9th January 2021 by Dorna Mangar, a 23 years old mother from Madang province. Both mother and twins were admitted to the new post-natal ward for 9 days for close observation before they were discharged.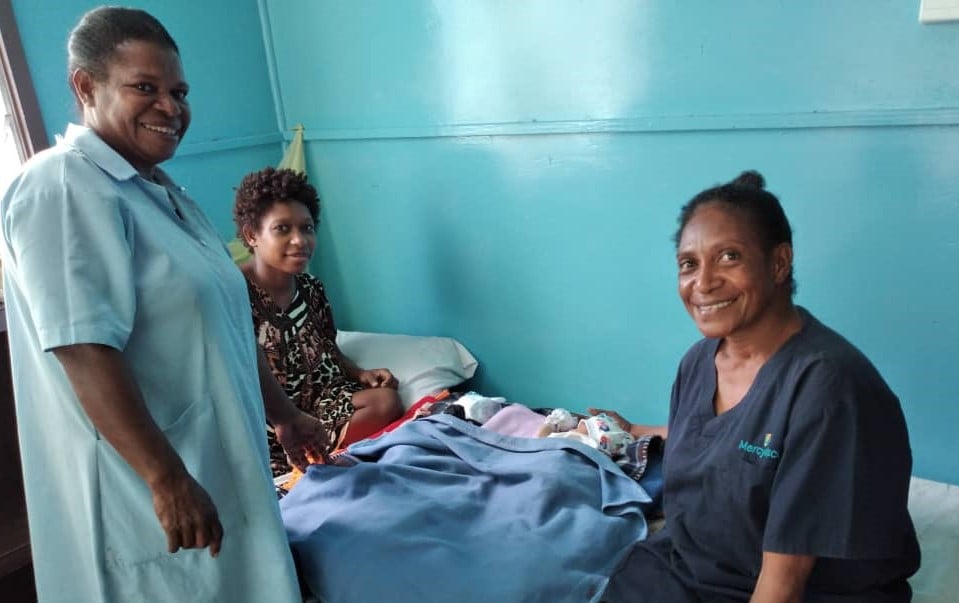 Nurse Ruth Degan and Nurse Stella Wene who helped Dorna Mangar, a 23 years old mother deliver the twins at center. Photo: Sr Philomena/Matkomnai Health Centre
---
Mangar was pleased with the care she received at the ward and said nearby communities, especially pregnant women, would benefit from emergency as well as scheduled medical care at the facility.
The two nurses, Nurse Ruth Degan and Nurse Stella Wene and Midwife Sr Jane Hano who helped deliver the twins also said it was a relief they were working in a properly equipped and maintained labor ward  to serve mothers and children. A big thank you from Managemtn Matkomnai Health Centre staff to UNFPA for the generous support.