Ensuring rights and choices for all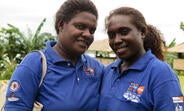 8 March 2018
UN Secretary General Statement on International Women Day
We are at a pivotal moment for women's rights. The historical and structural inequalities that have allowed oppression and discrimination to flourish are being exposed like never before. From Latin America to Europe to...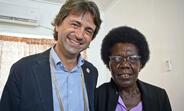 13 February 2018
New UN Resident Coordinator Visits Bougainville
The new United Nations (UN) Resident Coordinator for Papua New Guinea (PNG), Gianluca Rampolla, is currently visiting the Autonomous Region of Bougainville together with a delegation from the UN Peacebuilding Support...

In today's world, gaps in wealth have grown shockingly wide. Billions of people linger...

She is 10 years old. Capable of rapidly absorbing wisdom and knowledge from those around...