LAE, Papua New Guinea -- A nationwide survey of more than 19,000 Papua New Guinean households is being conducted to get a snapshot of country's population and health indicators.
United Nations Population Fund (UNFPA) has partnered with PNG's National Statistics Office and others to support the 2016 Demographic and Health Survey (DHS), which is currently being rolled out in 800 towns and villages over 2016 and 2017.
UNFPAs' Country Resident Representative Koffi Kouame said the population data collected would allow policymakers to assess and anticipate the challenges of tomorrow.
"Many countries have outdated or inaccurate information about their populations, and that means the people most in need remain invisible," he said.
"The Demographic and Health survey is vital because it provides policymakers and development practitioners with a clear picture of where to invest. The collection of quality health and population data will help develop evidence-based planning and shape future population and development policies."
The information generated through the survey is extensive and covers infant, maternal, child and mortality, fertility, contraceptive knowledge and use, maternal and child health, and gender.
Mr. Kouame said the data will be used to monitor Papua New Guinea's progress since the last two DHS surveys in 2006 and 1996.
"The data is critical for development. It allows us to to identify gaps and to improve the lives of Papua New Guineans, and in particular vulnerable women, girls, youth and adolescents," he said.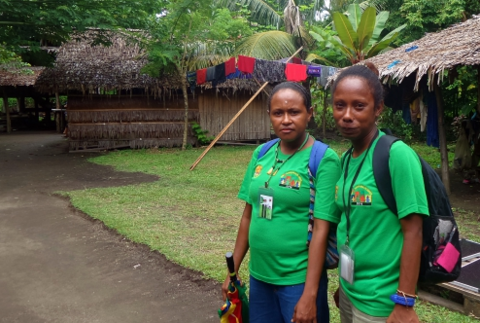 Importantly, Mr. Kouame said it's the first survey to provide development indicators towards the global Sustainable Development Goals (SDGs), a set of 17 goals aiming to transform the world over the next 15 years.
The PNG Government committed to the SDGs with 192 other countries in September 2015.
Provincial Survey Coordinator for the Morobe Province, Jeremy Adams, 36, has been interviewing people for the survey and working on the project for more than five months and believes it's very worthwhile.
"I hope the survey will help to educate us to improve our lives."
The survey requires women and men aged 15 to 49 in 22 provinces to do a three-hour interview on health-related issues such as fertility, infant and maternal mortality, family planning and gender.
Survey provides new career opportunities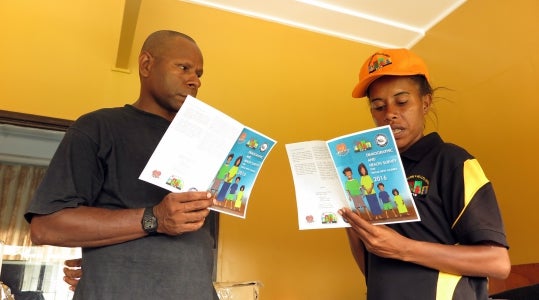 With support from UNFPA, the project trained master and provincial trainers to prepare 450 people to conduct the survey in urban and rural areas across PNG.  
Morobe province field team supervisor Felix John, 26, collected data for the cense in the year 2000 and enjoys being part of major projects in PNG.
"My life was ordinary before this, this project has made me a leader in the community," he said.
Miriam Yopang, 28, was grateful for the opportunity to be trained to interview people about her home province of Morobe.
"I hope we can improve our lives and stay in a healthy environment. I hope to see more funds for the people of Morobe to build aid posts, clinics, roads and water supplies," she said.
Furthermore, Ms. Yopang recommends others get involved in data collection initiatives in the future.
"I thought I was not fit enough to go through the interview process, but as time passed, I began driving the interviews and it has changed my life," she said.
Funding for the DHS has been provided by the PNG Government and the Australian Government, with additional assistance from UNFPA, World Health Organisation and the United Nations International Children's Emergency Fund (UNICEF).
By Alice Plate and Ruth Pisi