LAE, Port Moresby -- Inside the boxes that stack up around Rigo Guas are medicines that will help change the lives of many women in his community.
Mr. Guas works at the regional Area Medical Store in Lae, Papua New Guinea's (PNG) second largest city which receives, records and then dispatches thousands of boxes of critical medical supplies to health facilities each year.
"I love my job here because the medical drugs and equipment help to save people's lives," said Mr Guas, 33, senior store supervisor has been employed at the facility for 16 years, since he left school in Morobe Province in grade 10.
"Many people have encouraged me to move on when I have gained enough experience. They say I should get a new job but I just choose to work here."
Among the precious cargo are quality contraceptives including implants to prevent unintended pregnancy and empower couples to plan their families; basic, inexpensive maternal health medicines to keep women from bleeding to death during childbirth; and condoms protect people from HIV and sexually transmitted infections and unintended pregnancies.
PNG has one of the highest maternal mortality rates in the world with 7 maternal deaths for every 1,000 live births (2006 Demographic Health Survey), equating to 1,300 women dying every year as a result of pregnancy-related problems.
UNFPA has been at the forefront of supporting the PNG Government's National Department of Health to help build stronger health systems and increase access to a reliable supply of contraceptives and maternal health medicines. This work extends into the four provinces including the Autonomous Region of Bougainville, Central, Enga and Morobe and since 2015 its expanded to East New Britain, Manus, Madang, Goroka, Simbu and Oro provinces.
UNFPA improving lives by upskilling staff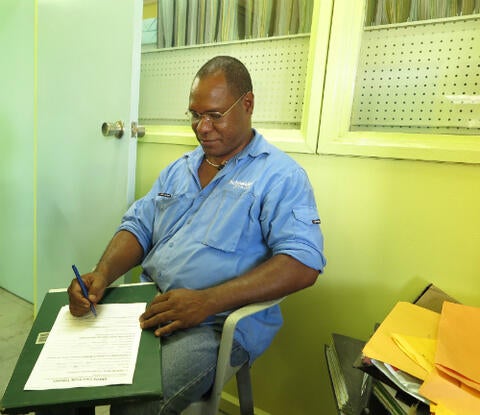 I used to do all my work manually and that took much time, now I can do most of my tasks with a computer. For example updating stocks, finalising items and issuing them out to facilities in communities," said Lae Area Medical Store's Supervisor Lukey Pokapon.
He joined 20 of his colleagues from five other area medical stores in Lae, Mt Hagen, Port Moresby, Rabaul and Wewak, to do computer training, funded by the UNFPA to build the capacity of their front line staff.
Staff were trained to use a new logistics information management system, known as mSupply, which will allow them to electronically capture data to efficiently track and monitor medical stocks to make informed decisions on ordering and distributing medical supplies and equipment.
Mr Pokapon, who supervises nine staff and has been at the Area Medical Service in Lae for seven years, said the training has made a substantial difference.
"This training helped me with my work and also in my home. It helps me in my supervisor role and I look forward to doing more advanced training, so we can build our community in the future."
By Alice Plate