Two doctors stand in front stacks of PPE, in a warehouse packed with boxes of support from around the world. They are two of many health care professionals in Papua New Guinea for whom these boxes are a great relief – enabling them to provide life-saving care without placing themselves at risk. 
"We are facing a situation where many of our staff are not attending to work because of fear" says Dr Edward Waramin, Manager for the National Department of Health's Population and Family Health Service Branch. "We hope that by providing this PPE our workers will feel safe attending their health facilities."
Though this has become a common photo op recently, Dr Edward and UNFPA's Dr Titilola Duro-Aina  are excited for this recent shipment of supplies to be distributed to their peers across the country. These provisions will be delivered to Family Support Centres and health workers providing maternity care services in COVID-19 impacted provinces, including Western, NCD, East New Britain, Lae, Western Highlands, Southern Highlands, Milne Bay and Bougainville.
Despite hundreds of thousands of pieces of PPE being delivered to PNG health care providers since March, there are many health service providers across the country in need of protective equipment. For those providers who have received PPE, the disposable masks, gloves, and gowns must frequently be replenished. Without these provisions, some centres may face staff shortages or even closure.
And it is not just providers who shy away from health centres when there is a shortage of protective equipment. "We see that a lot of those who need maternal health services, family planning services, and GBV services are not turning up at the health facilities because they don't have PPE," said Dr Titi. "That is why this is so important."
As a family planning and maternal health expert with experience training heath care workers in many countries across the world, and a mother of three herself, Dr Titi understands the safety concerns of Papaua New Guinea's remote health workers and mothers. "Our clients, our mothers, are scared. When they see service providers are not fully protected, they feel unsafe."
Globally, 70% of healthcare workers are women, including nurses and midwives. Together with expectant mothers delaying visits for fear of contracting COVID, insufficient PPE for maternal health and family planning centres disproportionately impacts women.  
This hand over from UNFPA included hand sanitizer, goggles, KN95 masks, gowns, gloves and dignity kit supplies. The dignity kits provide essential menstrual hygiene supplies for women in need at a time when these supplies may be increasingly difficult to access.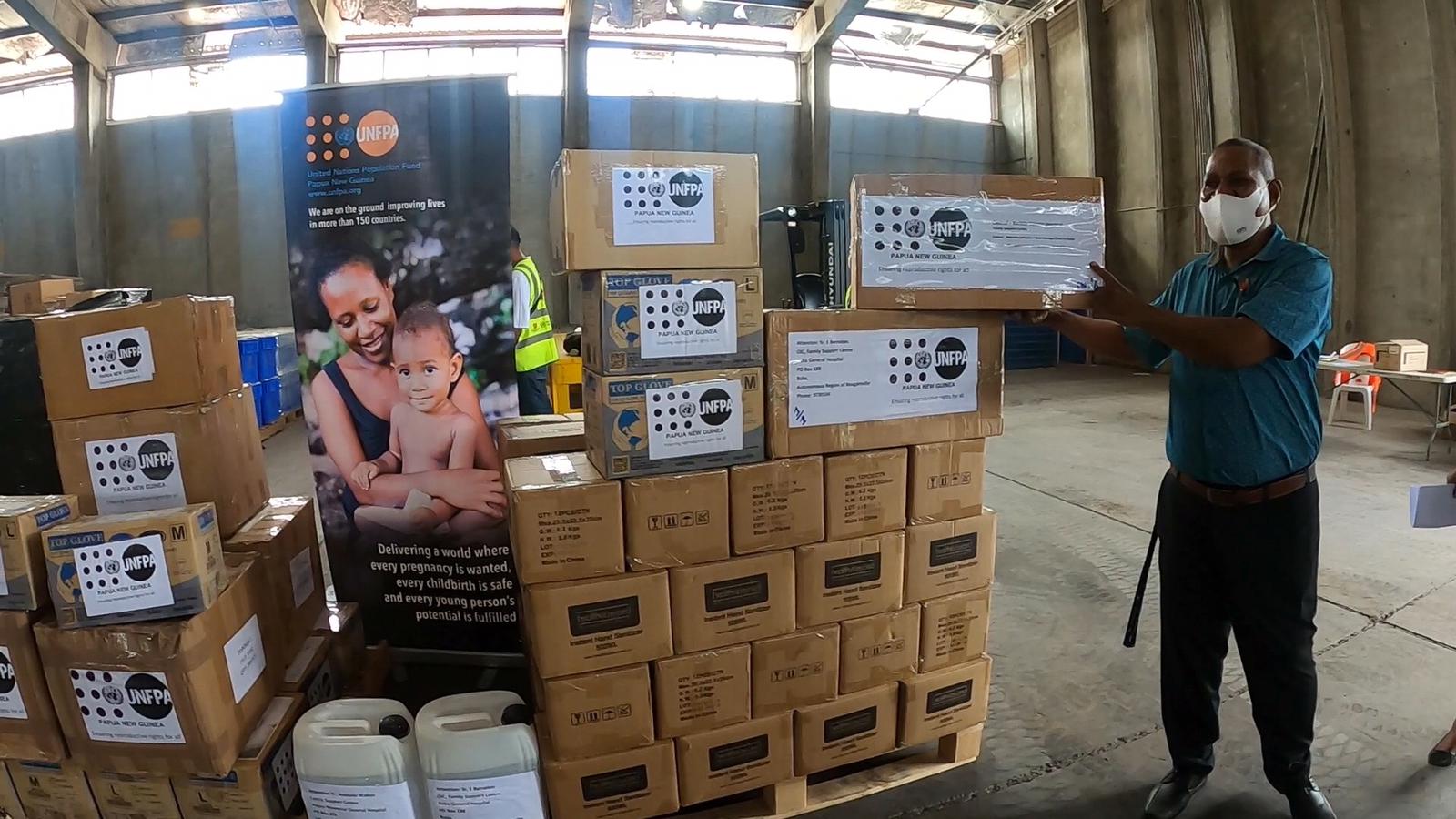 "We've been very privileged to have UNFPA on board," said Dr Edward. "They have been very supportive for a long time now, especially for our maternal health programs."
With this latest batch of PPE, it is hoped that health care workers are confident they can care for their communities and mothers are reassured that they can access safe maternity care when they need it most. Previous shipments of PPE have already been distributed to health providers in North Fly District, Western Province, as part of the UN Secretary General's Multi-Partner Trust Fund for COVID-19. The fund has enabled UNFPA, together with IOM and UNICEF, to support the region's most vulnerable communities.
This most recent supply of PPE was made possible through UNFPA core resources and the EU funded Spotlight Initiative.