This is not how Esther Nelson wants to picture her home country in the future. 
The 31 year old former midwife lives at six mile, one of the overcrowded outskirt suburbs of Port Moresby and everyday she sees Papua New Guineans rushing to get on public buses, children roaming the streets begging and many people living in shanty settlements.
Ms Nelson manages a clinic in Port Moresby for Marie Stopes – the nation's largest provider of contraception and family planning services and one of United Nations Population Fund's (UNFPA) partners.
UNFPA supplies Marie Stopes with hundreds of thousands of contraceptives and maternal health medicines every year. 
Ms Nelson believes the country's future could be brighter if women had better control over their fertility to reduce the pressure of a rapidly growing population .
"I have witnessed a lot of women delivering babies who do not have access to informed choices of family planning methods so this motivated me to work with Marie Stopes to be able to give information on what contraceptive methods are available so clients can decide for themselves," she said.
One in six women in PNG give birth to their first child before the age of 18 and the country's population is projected to reach 13 million by 2032.
Port Moresby housewife and mother Lean Bonnie, 21, attended the Marie Stopes clinic and appreciates the choice that contraceptives give her.
"I like implants because they give me control. Most of my friends use implants. Some don't and get pregnant and often end up on the street. How can they look after children with no father? They've had to give up their kids for adoption," she said.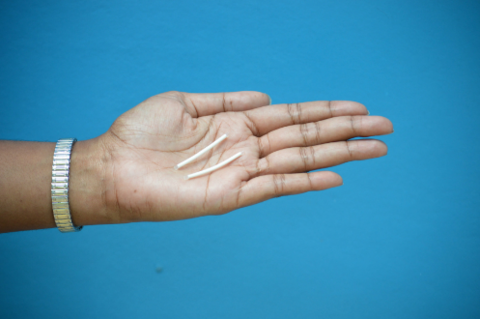 On average over 100 hormonal implants are administered every month at Marie Stopes' Port Moresby clinic and it's by far the most popular contraceptive. Most women prefer the implant because it can last up to four to five years and can be easily removed.
Ms Nelson says the implant is inserted into the arm and releases a hormone called progestogen to prevent pregnancy and is particularly useful for women in rural areas.
"The service has helped them space their children and helps reduce their living expenses. With family planning, they are able to have their desired family size and are able to feed, clothe and send their children to school. It also means the mother is healthy and is productive," she said.  
Marie Stopes' Port Moresby clinic services about 400 women a month, most of whom who have no regular income or employment. Ms Nelson said most clients are either subsistence farmers from surrounding provinces or women who have moved into the city from other provinces and live in settlements.
Carpentar Hitolo and his wife Alesa Madaha, who have five children, came from Boera in Central Province to get Alesa's implant checked.
"Marie Stopes first came to us in our village with their free outreach service and there were plenty of women getting implants. It's good to control child numbers. It's helping the ladies so we think it's good," he said.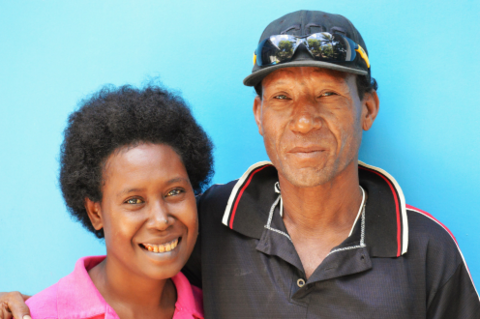 The clinic offers other family planning methods including condoms, contraceptive injections and pills, intra-uterine-devices; testing for sexually transmitted infections and pregnancy, counselling for sexual and reproductive health, pregnancy and infertility counselling. There are also four other clinics in major centres in Goroka, Mt Hagan and Lae.
While Ms Nelson enjoys giving real life information to girls, women and fathers of the benefits of family planning, she believes there's more work to be done.
"We need to clear misconceptions and doubts about family planning contraceptives and be able to reach out further to the wider audience to improve and increase their understanding on family planning," she said.
Ms Nelson is thankful for UNFPA's ongoing support. She believes the family planning programme is worthwhile as it has helped a lot of mothers by providing free access to services in the rural areas and a minimum fee at the urban centres.
While she's modest about the significance of her role assisting families with their sexual and reproductive health needs, she's hopeful about her country's future.
"The little I do in my organisation can assist families in my community to have the responsibility to plan their families in order to help reduce the population and my hope for the future is that we all must plan to have our children by choice and not by chance," she said.
The benefits of doing so can't be underestimated.
Visiting the clinic from Rigo in Central Province, Mata Vali and his wife Raka were removing an implant so Raka can try for another child. Mata Vali is thankful for service and excited about trying for a new addition to the family.
"We have Jerah, she's two. So now I need a boy, but it's up to God, our big boss up there so who knows," she said.