UNFPA: Delivering a world where every pregnancy is wanted,
every childbirth is safe and every young person's potential fulfilled.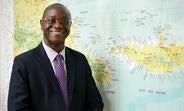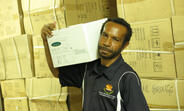 1 February 2017
Meet the people quietly dispatching life saving medical supplies around PNG
LAE, Port Moresby -- Inside the boxes that stack up around Rigo Guas are medicines that will help change the lives of many women in his community. Mr. Guas works at the regional Area Medical Store in Lae, Papua New Guinea's (PNG) second largest city which receives, records and then dispatches thousands of boxes of critical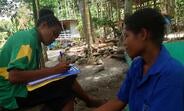 1 February 2017
Once in a decade survey in PNG now underway
LAE, Papua New Guinea -- A nationwide survey of more than 19,000 Papua New Guinean households is being conducted to get a snapshot of country's population and health indicators. United Nations Population Fund (UNFPA) has partnered with PNG's National Statistics Office and others to support the 2016 Demographic and Health Survey

In today's world, gaps in wealth have grown shockingly wide. Billions of people linger...

She is 10 years old. Capable of rapidly absorbing wisdom and knowledge from those around...
No vacancies currently available