You are here
Main events calendar
Past Events

25 November 2021 - 10 December 2021
Papua New Guinea
To raise awareness on GBV and engage young people to end violence against women during 16 days of activism and beyond.
Details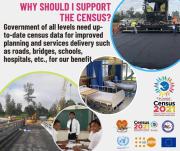 25 January 2021 - 3 February 2021
Papua New Guinea
The National Statistical Office (NSO), wishes to inform the general public throughout Papua New Guinea that Structural Listing for the 2021National Population and Housing Census will be carried out between 28th of January and 3rd of February 2021.
Structural Listing is a prerequisite for the 2021 census and is a systemic way of compiling a list of household information to make way for the main census enumeration in July 2021. This exercise is important as it will serve as a checklist for quality and full coverage of the 2021 Census.
Details
Pages