You are here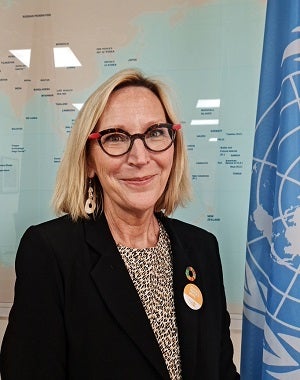 Ms. Marielle Sander
Marielle Sander is the UNFPA Country Representative for Papua New Guinea. 
Ms Sander has over two decades of extensive experience in international development with considerable experience in programme management, strategic vision and policy development. Ms Sander has a breadth of experience of working with United Nations agencies in a diverse array of countries, including Kyrgyzstan, Moldova, Turkey, Russia, Haiti, Eritrea and South Africa. 
Prior to joining UNFPA, Ms Sander served as Senior Political Advisor to the Swedish Government Secretariat for the Global Forum on Migration and Development. She joined UNFPA in 2015 as the UNFPA Representative for Haiti and later served as the UNFPA Representative for Eritrea. 
Her current role leading UNFPA in Papua New Guinea is a return to the country, having lived there as a young girl and celebrating the country's independence in 1975. 
As a passionate advocate for ending gender-based violence, Ms Sander joins the UNFPA Papua New Guinea office with a mission to support women, girls and young people's rights for a life free from harm and discrimination, in a more sustainable and equal world.
Ms. Sander holds a Master's degree in Migration and Law (with distinction) from the University of London in the United Kingdom and a Bachelor's degree in Society and Media from Griffith University in Australia.